Sorcer is a polyphonic wavetable synth LV2 plugin. Its sonic fingerprint is one of harsh modulated sub-bass driven walls of sound. Two morphing wavetable oscillators and one sine oscillator provide the generation routines. The LFO can be mapped to wavetable modulation as well as filter cutoff. An ADSR allows for shaping the resulting sound, while a master volume finishes the signal chain. Easily creating a variety of dubstep basslines and harsh pad sounds.
Demos & Screenshots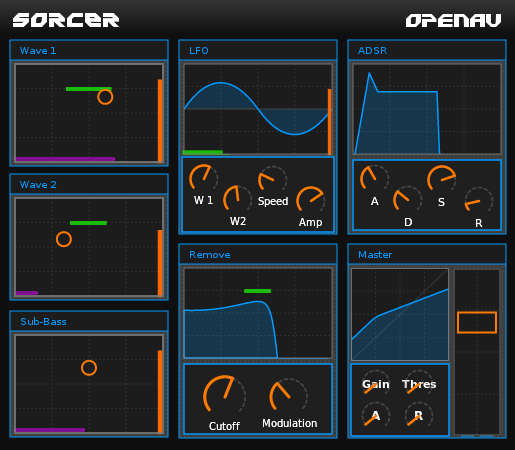 Ardour and Sorcer in Action: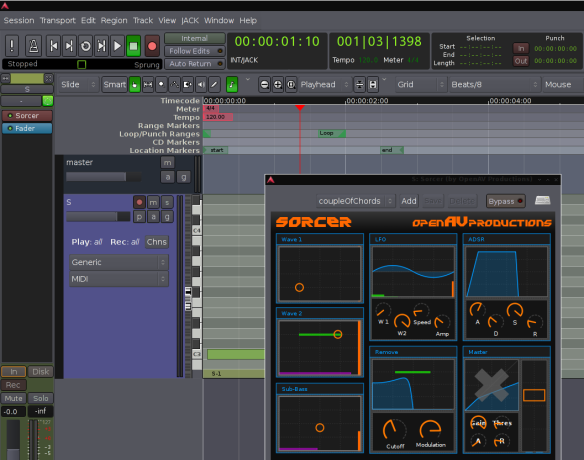 Release 1.1 (14-09-13)
Updated user interface to NTK
Added dynamics compressor for extra shaping options.
Presets backwards compatible! Compressor disabled by default.
Release 1.0 (19-05-13)
14 donations in 9 days! As I prepared the release more donations kept coming in, surpassing the original goal of 120€! Wauw, thank you for making a success kicking off OpenAV productions and releasing Sorcer! Many thanks to all those who contributed:
Daniel Worth
Cillian de Róiste (#irc goibhniu)
#irc zth
Jeremy Jongepier (#irc AutoStatic)
#irc JazzyEagle
Audio4Linux.de
Audio4Linux.de
Audio4Linux.de
nbpetersen
And others!
Please download at github.com/harryhaaren/openAV-Sorcer.